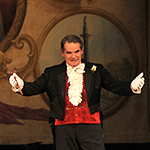 The late Johnny Dennis had a long association with the Players' Theatre, making numerous appearances over the years, as both a performer and Chairman.
Johnny's many acting talents gave him the opportunity to work with stars such as Sirs Michael Gambon and Anthony Hopkins and on film with Elizabeth Taylor.
Johnny also worked as a cricket announcer and was popularly known as the 'Voice of Lord's'. Read his obituary on the Lord's website here.