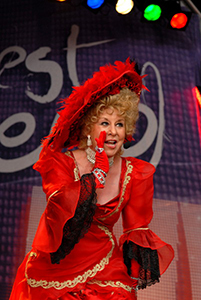 Jan Hunt's versatility has given her the opportunity to perform in pantomime, West End musicals, music hall, cabaret, film, radio and TV, where she was affectionately known for many years as the Crackerjack Girl. Her long association with the Players' Theatre led to many appearances on The Good Old Days and she received great acclaim as the lead role in The Life Story of Marie Lloyd. As a producer with Classic Comedy Productions, Jan has recently co-produced number one UK tours of Dinnerladies, Keeping Up Appearances, Rising Damp and most recently Birds of a Feather.
Our very own Jan Hunt is starring at the Alexandra Palace in 'The Magnificent Music Hall' on Wednesday October 30th at 2.30pm.
Continue reading →
Please note that Jan Hunt's show 'The Magnificent Music Hall' has been moved to October 30th.
Continue reading →
Our Creative Director, Jan Hunt, is embarking on her very own Spring Tour around the country and our regular Chairman, Clive Greenwood, is also touring with "Hancock's Half Hour".
Continue reading →