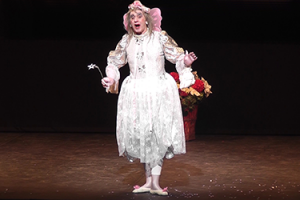 One of the undisputed music hall "greats" of our generation, Peter John has been honoured with the British Music Hall Society's Lifetime Achievement Award.
Born in Liverpool, Peter John trained at RADA and was one of the founder members of the National Theatre Company, performing in Olivier's original Othello. Moving into music hall, he appeared in many specialist music hall and variety shows. He was one of the regular performers at Vincent Hayes' pub, the Lord Hood in the 1980's and was one of the first to appear on stage at the newly opened Brick Lane Music Hall in Brick Lane in 1992. Peter has appeared in more than 30 pantomimes, famously performing dame at The City Varieties, Leeds, for many years.
In recent years Peter has concentrated on music hall and variety and is a regular performer in music hall shows all over the country.